---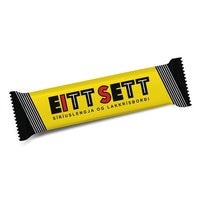 The Liquorice+Chocolate Original Legend!

Legend states that when kids in the 60's went to the candy store they would buy one classic Nói milk chocolate bar and one liquorice ribbon and eat them together. Picking up on the trend Nói started packaging the set and selling together as "One Set" or "Eitt Sett"! Try it!
The combo is probably one of the most Icelandic candy trends of all time, and for good reason. The sweetness of the rich chocolate perfectly balances out the sharp liquorice taste making an ideal lil' bite. One plate of chocolate and one plate of liquorice, bite together or just separate. 
Ingredients:
Energy: 2071/495kJ/kcal
Fat: 25g
Of which saturates: 15g
Carbohydrate: 59g
Of which sugars: 49g
Protein: 7,1g
Salt: 0,41g
Allergens: The product contains trace amounts of milk, wheat flour and liquorice. The product may contain trace amounts of nuts. Contains liquorice – Individuals with high blood pressure should consume it in moderation
Note: Also option to buy Eitt sett and Royal Instant Pudding with Eitt sett.