---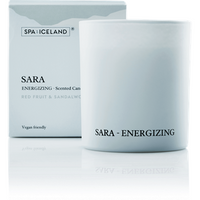 Sale
This vegan aromatherapy candle is made with a blend of soy wax and vegan paraffin infused with the energizing scent of red fruit & sandalwood. So refresh your home. Invigorate your office. All with one candle. 
(Note: This is our Culture Editor's favourite candle. She has three.)
A perfect gift featuring a pre-cut, lead-free wick and 37 hours of burn time. 155 grams.
Named after Sara—sweet as can be and sharp as a whip.
KEY INGREDIENTS
50% Soy wax & 50 Vegan paraffin
Lead free wicks
Red fruit Citrus & Sandalwood
Product from Spa of Iceland. Designed in Iceland.