---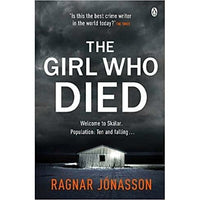 Ragnar Jónasson is arguably the crown prince of the Icelandic crime novel.
TEACHER WANTED ON THE EDGE OF THE WORLD . . .

Una knows she is struggling to deal with her father's sudden, tragic suicide. She spends her nights drinking alone in Reykjavik, stricken with thoughts that she might one day follow in his footsteps.

So when she sees an advert seeking a teacher for two girls in the tiny village of Skálar - population of ten - on the storm-battered north coast of the island, she sees it as a chance to escape.

But once she arrives, Una quickly realises nothing in city life has prepared her for this. The villagers are unfriendly. The weather is bleak. And, from the creaky attic bedroom of the old house where she's living, she's convinced she hears the ghostly sound of singing.

Una worries that she's losing her mind.

And then, just before midwinter, a young girl from the village is found dead. Now there are only nine villagers left - and Una realizes fears one of them has blood on their hands . .
Published 2021
384 pages