---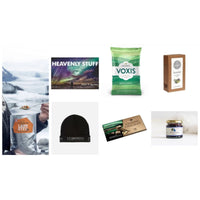 Sale
The Icelandic Autumn/Fall box!

Autumn is officially here. In Iceland that means berry picking, rounding up sheep, getting out your warm clothing and snuggling up at home with a book, hot tea and candy. Oh, and northern lights. This box will give you a real taste of the Icelandic Autumn.
Autumn is the season of jams! You will not have tasted a more Icelandic jam than this one. The sweet Bilberry (called Aðalbláber in Icelandic) makes a perfect jam. We have a limited supply so if sold out we give you the crowberry jelly which also has a unique taste from the slopes of Icelandic mountains.
This is the hat you would wear if you were going as an Icelander in a costume party. This particular one has reflective print to make you more visible in the twilight of autumn. Durable, cool and comfortable.

The herbs in this blend have been used for tea by natives since first settlement of Iceland.
The birch leaf has a mild taste and is considered Diuretic and detoxifying. Arctic thyme and Angelica seeds are both very tasty herbs with natural sweetness, considered good for all sorts of cold and cough. Icelandic moss is world famous health herb, which is believed to be good for the stomach.
This little book will fit in your pocket but also makes a nice coffee table book. Beautiful aurora photography by one of Icelands best photographers.
Autumn is the season of sore throats. But do not despair! Voxis has angelica leaves that will offer relief! These tasty Icelandic lozenges have become a global hit for that reason exactly.
Traditional Icelandic chocolate with raisins and nuts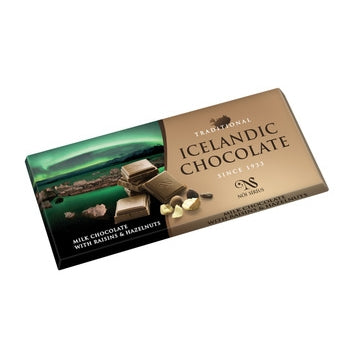 Something about this chocolate just makes us think of autumn. Maybe it's the nuts or maybe just the beautiful aurora on the packaging...
Yes. A piping hot Icelandic lamb stew is a traditional autumn food you must try. As we usually are very sceptical about pre-made meals we can testify that this product is premium quality. Tastes very much like a fresh made one.
Bonus: Best of Reykjavík 2023 Autumn guide!