---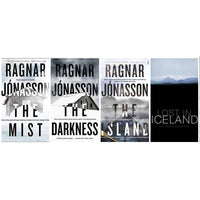 Sale
Winter is upon us and the best way to survive the long, dark, Icelandic winter is embracing the darkness, crawl under a blanket and read a good book. Get the darkness sent to your doorstep with this box full to the brim with "nordic noir" crime mysteries set in some of the most desolate places in Iceland.
To set the mood for the trip you are about to go on with Reykjavík based detective Hulda, check out this photo book with the very landscapes you could expect to read about in the "Hidden Iceland" series...
This is Nordic Noir at it´s bleakest. The iconic "Hidden Iceland" series by Ragnar Jónasson has been topping best sellers lists in Germany and the UK and many more European countries. Hours of gloomy and suspenseful crime solving extravaganza in 3 books that will make your teeth clatter.
The Darkness (first book)
The Island (second book)
The Mist (third book)
Customer Reviews
18 December 2020
Terry C.

United States
Awesomeness
One of the best Nordic Noir authors out there. Must reads.