---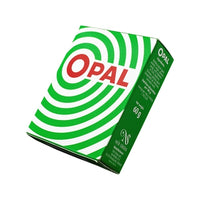 This is what you want: A gentleman commenting on our Icelandic classics box was obviously in considerable dismay whilst typing: "Where is the Opal?" And boy was he spot on! How can anyone in their right mind make an Icelandic Classics Box without OPAL?! We hang our head in shame actually and future Icelandic Classics boxes will come with a free pack of Opal thanks to him!
But what are they? Opal are small, round, salmiak liquorice pastilles that are one of the things you would find in the pocket or purse of the average Icelander and has been for decades. Everyone knows the taste and it doesn't change although they add varieties regularly (and so will we).
Customer Reviews
I recommend this product
OPAL GREEN
Excellent licorice flavor and gummy texture. I wish they were sold in the U.S.
08 January 2022
Anonymous

United States
Opal Green Candy
Very tasty licorice candy in a handy to share box. I would buy this again.
17 December 2021
Anonymous

United States
Opal Green Licorice drops
These little gems are quite good if you enjoy salt licorice. Enough to share too! Nice sized box.