---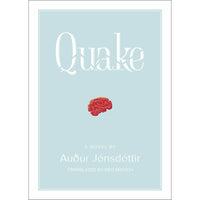 Nominated for the Icelandic Literary Prize, Quake: A Novel is a haunting novel-in-translation about Saga, a woman who comes to after an epileptic seizure on a sidewalk along busy Miklabraut Street.

Her three-year-old son is gone. The last thing she remembers is a double-decker bus that no one else can confirm seeing. Over the following days, Saga's mind is beset by memories and doubts. What happened before her seizure? Who can she trust? And how can she make any sense of her emotions when her memory is so fragmented?

Hailed as Auður Jonsdottir's "best-written novel so far," Quake is a shocking and revelatory exploration of the blurred lines between fact and fiction, reality and imagination, and where mother ends and child begins.