---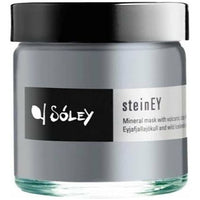 Disrupt your facial routine with a facial mask with mineral rich volcanic clay from the Eyjafjallajökull volcanic eruption.
This dark grey mineral mask regulates and balances skin, stimulates cellular metabolism, strengthens tissues and reduces the signs of aging. It normalises skin texture by removing dead skin cells, toxins and impurities, which subsequently eases the absorption of applied nutrients and moisture. 
Contains hand-picked wild Icelandic birch that nourish and promote the skin's natural equilibrium.
No harmful ingredients
Cruelty free
Vegan
60 ml.
Made in Iceland
Also from same producer, same shipping if you get them also:
SteinEY volcanic mask
KISStu mig healing lip balm

How to use:
Mix ½ teaspoon of steinEY mineral mask with ½ teaspoon of water on a small plate. Apply steinEY mineral mask to clean skin and use fingertips to gently spread over face (and neck). Leave mask on for 10 minutes until dry and light grey, rinse thoroughly with warm water and pat skin dry. Regulate skin once a week.

Suitable for all skin types. Be careful with your clothes and choice of towel while using this mask! It might stain white towels.
Ingredients
Illite (clay)*, Volcanic ash (and clay from Eyjafjallajökull)*, Betula Pubescens (birch) Twig Extract (wild Icelandic herb)

Customer Reviews
I recommend this product
Heavenly Volcano mask
I bought 2 jars for women who are good friends. They do a lot of facial masks and really enjoy doing them. Both women said it was Amazing and was the best they have ever used. Their skin felt smoother after one application than anything they have used. I am going to Iceland at the end of June and they asked me to bring them back bigger jars if I can find them. I will be looking for bigger jars for them.
28 October 2020
Belinda S.

Australia
Volcanic powder mask
Easy to use. I've only used it once so can't comment yet on efficacy. It arrived very quickly to Sydney.