---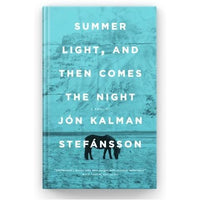 AN INTERNATIONAL BESTSELLER AND WINNER OF THE ICELANDIC LITERATURE PRIZE
"Sometimes, in small places, life becomes bigger"
Sometimes a distance from the world's tumult opens our hearts and our dreams. In a village of four hundred souls, the infinite light of an Icelandic summer makes its inhabitants want to explore, and the eternal night of winter lights up the magic of the stars.
The village becomes a microcosm of the age-old conflict between human desire and destiny, between the limits of reality and the wings of the imagination. With humour, with poetry, and with a tenderness for human weaknesses, Stefansson explores the question of why we live at all.

From Reykjavík Grapevine:
This is the book that made Jón Kalmann an overnight superstar. In fact, right now he's probably the most beloved fiction writer in Iceland..
The book is compiled as a series of short stories over one summer in a small Icelandic fishing town, with each story connected by a strong thread.
Translated from the Icelandic by Philip Roughton
Soft cover.