---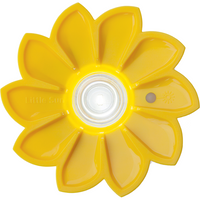 The Little Sun!
This is no ordinary flashlight. It is somewhat of a groundbreaking tech actually. The Little Sun is charged by the sun during the day and will provide light for the night!
The team behind this awesome gadget is visual artist and designer Ólafur Elíasson and the Little Sun has been featured in a number of international media since first launched in 2014
This high-quality solar lamp is the perfect introduction to portable solar-powered light. Designed by artist Olafur Eliasson, it is great for camping, festivals, beach trips, and for brightening your home, garden, or balcony.
Check out this article we wrote about the project!
Kids love the lamp – as a nightlight or for playtime – which makes it a great tool for teaching about sustainability.