---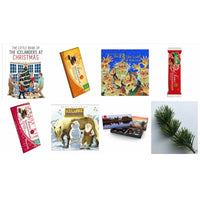 Sale
The Sweet Christmas Box of Iceland!
An assortment of things we have picked that will make your Christmas a little more Icelandic! We have another Christmas Box also but these two are not competing, just have different items in them. So getting both won't leave you with 2 of anything! Well, except the little Icelandic Christmas tree branch that comes with them...
Nóa Konfekt! Luxury Confectionaries!
Icelandic festive luxury chocolates! You will find these in almost every home in Iceland during the holiday season...This is box contains 16 pieces of luxury chocolates!
Nóa Chocolate with Bismark! (Candy Cane Flavor)
Yes, it is chocolate obviously but what the hell is Bismark? Well, you know the white, minty candy canes with the red stripes that you hang on a christmas tree? Yeah, that. In Iceland these are sold in tiny cubes and are called Bismarks... That being explained, who the hell would grind that down and put inside a chocolate? No one of course except Icelanders. And it is delicious too!
Certainly you have heard about Iceland's 13 naughty Santas or Yule Lads? Well, if not here is a great introduction. A great story about these mischievous sons of a troll...
Beautifully illustrated by national treasure Brian Pilkington. Merry Christmas!
Nóa Cream Chocolate with Gingerbread

You know the drill. Icelandic candy makers have these crazy brainstorm meetings in the morning and by the afternoon a new brand of chocolate with something a bit odd in it rolls out of the factory. 
But they have gotten so good at it. It just can't be a fluke. 
Stúfur and the Snowman - Icelandic Winter's Tale
A heart-warming Icelandic winter's tale featuring Stúfur, the smallest of the 13 Icelandic Yule Lads. Aimed at children 2–7 years old, or anyone who has ever built a snowman. Every page … as pretty as a Christmas card.
Also includes an introduction to the Icelandic Christmas family and the unique customs of the holiday season in Iceland.
Nóa Cream Chocolate with Orange and Caramel
Did you think Icelanders were running out of ways to combine strange tastes in their chocolate? Think again! 

This Christmas chocolate from Nói Siríus combines orange and caramel and oddly enough it tastes heavenly and just like Christmas for some reason. 
Try for yourself!
The Little Book About Icelanders at Christmas
Christmas in Iceland is special. Ask any Icelander and they will tell you. It is a time of year when everything pulsates with vibrant activity, and the nation delights in those festive traditions that make them a tribe. Music is all around, friends gather, restaurants are filled with people partaking of festive Yuletide offerings, authors are out and about reading from their new works. Everything pulsates with a vibrant, happy energy. There is even a word for the gleeful excitement one feels when waiting for Christmas—jólaskap, literally "Christmas mood".
Last and probably the least: A small, authentic, Icelandic Christmas tree branch responsibly harvested from a forest in Hafnarfjörður! See the video
here
!
You can use it for a small candle decoration or use it to stir a Gin & Tonic (gives hint of Christmas taste to it) or just burn the needles for that wonderful Christmas scent!
 For more Christmas related wares from our store visit:
https://shop.grapevine.is/collections/christmas
Customer Reviews
16 December 2021
Mindy P.
What fun
Delicious! Love the the books