---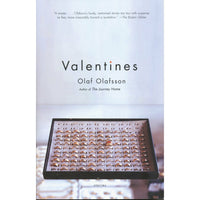 Valentines is a collection of thematically linked stories that encompass the twelve months of a year, capturing the most candid moments between lovers, husbands and wives, parents and children, when truth and true feelings surge to the surface and everything changes.

Pages 215. Soft cover.
Halldór Armand author about the book: Valentines
I've been a fan of Ólafur Jóhann for years. The stories in 'Valentines' are filled with understated pain and the suffering of flawed people striving for the impossible goal of keeping their lives and relationships in order. It's right up my alley. The style is subtle and effortless, the characters expertly crafted, and there's an undercurrent throughout the collection that really takes hold of the reader.