---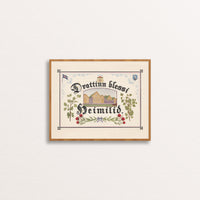 This poster resembles what many Icelanders may have seen at their grandparents or great grandparents house. "Drottinn blessi heimilið" translates to "God bless the home". The style is traditional rural Iceland from the early 19 hundreds featuring a turf farm, the Icelandic flag along with some birch, farmers rose and an old crest for Iceland (from ca. 1903 - 1918).

Poster: 40×50 cm produced by Crymogea.

Also add Helm of Awe and Runic Compass to your order without added shipping cost!