---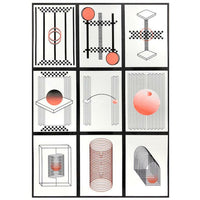 Riso print A3, limited 30 copies. 
Þórdís is one of best upcoming artists in Iceland. Read about her in our feature interview in Reykjavík Grapevine February 2021 here and excerpt from interview below:

Thanks to her background, Þórdís found herself uniquely qualified to confront the challenges of being an artist in the pandemic. "Yes, I think people that were already working in digital media," she explains, "we were like—oh, this is my turf."
She, therefore, knew how to turn her eyes towards this new consumption model and did so—to great success. "It's been really good for me. It's gotten a lot of interest in my work and I've enjoyed it. It's good if you are quite tech-savvy and can make yourself a good website.
Also check out pdf version of the interview here, Þórdís did the cover for us for the issue. Want the issue sent in post ask for it in note before check out and we will include it.