---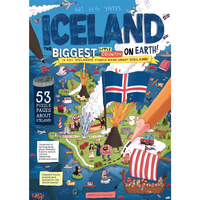 Iceland: The Biggest Little Country On Earth!
Author: Ari H.G. Yates
Do you know where the first Icelanders came from? Or what makes the Northern Lights shine? Do you know the difference between a dolphin and a whale? Or how often Icelanders have been the "World's Strongest Man"? Do you want to find out? This 100% Icelandic Puzzle Book is crammed with puzzles, interesting facts and fun, containing almost anything you want to know about the Biggest Little Country on Earth!