---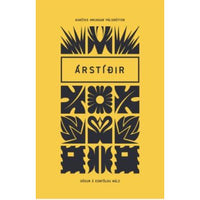 Árstíðir consists of 101 stories written in simple Icelandic. Its short, accessible tales cover various aspects of Icelandic everyday life. They include new experiences, friendship, overcoming challenges, joy and sorrow. The stories reflect the diversity of daily life year round in the land of light and darkness.

This is the first collection of original stories specifically written with Icelandic as a second language learners in mind. The stories cover various topics, styles and forms. They are arranged into five difficulty levels in consultation with teaching experts. Moreover, there is an appendix with information about Icelandic culture and traditions. The book is an excellent teaching aid for people learning Icelandic as a second language as well as an excellent choice for enthusiasts of Icelandic Prose.
Customer Reviews
100
reviewers would recommend this product
Write a Review
I recommend this product
Just right
The tiny dialogues and stories are just right for someone who has a little vocabulary and wishes to understand how it is put together. The complementary English-language newspaper also made interesting reading. Thank you.
17 October 2021
Cheryl C.

United States
I recommend this product
Fun!
I look forward to making my way through this book, slowly, as I am just learning Icelandic. One thing to note; for some reason the US Post Office decided to drop the package in the Atlantic on its way here. It arrive soaking wet. However, with the help of some good air flow it dried out. This means the paper is good quality!