---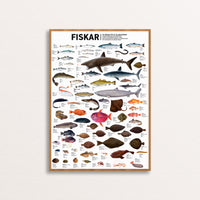 Everyone knows Icelanders love their fish. On the face of our coins, where other nations reserve a space for their Kings or Queens, we put different types of fish! This poster honours all known species of fish that live around Iceland. It makes a beautiful and educational addition to almost any wall...The names of each species on the poster is written in Icelandic, English, French, Russian, Polish and Latin...So good for language study as well as biology!
 Poster: 50×70 cm produced by Crymogea.
Same shipping price if you order one of: Islandia or Whales around Iceland  poster.