---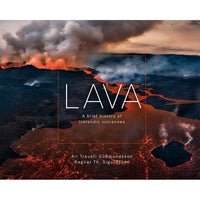 Lava
Iceland is a showcase, laboratory and wonderland for anyone interested in the living nature. Here the fierce forces are vividly displayed and volcanic activity and related phenomena have become a part of everyday life.
In LAVA – a Brief History of Icelandic Volcanoes, geophysicist, renowned writer and MP, Ari Trausti Guðmundsson, and award-winning photographer, Ragnar Th. Sigurðsson, combine their skills to present the stunning and fierce beauty of the Icelandic volcanoes as well as explaining what goes on below the surface.
Also check out On Fire: Iceland's Youngest Volcano from same authors and same size. Shipping price same if you add both into basket.
Customer Reviews
08 August 2023
Anonymous

Netherlands
I recommend this product
Nice insight info for Icelandic volcanoes
Beautiful pictures and foto's and a clear explanation of all facets of the Icelandic volcanic systems Not so cheap for I had to customs clearance costs € 10.45, rediculous but that's not your fault Best regards Peter Alexander London
28 November 2022
Anonymous

Australia
I recommend this product
Lava: A Brief History of Icelandic Volcanoes
I learnt a lot about Icelandic volcanoes - I didn't realise there were so many. The book is very high quality with excellent photographs.