---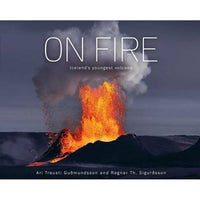 On Fire: Iceland's Youngest Volcano
By Ari Trausti Guðmundsson and Ragnar Th.
In On Fire: Iceland's Youngest Volcano, geophysicist, renowned writer and MP Ari Trausti Guðmundsson, and award-winning photographer Ragnar Th. Sigurðsson, combine their skills to present and explain the stunning development and fierce beauty of the early stages of the 2021 eruption.
At 20:45 on Friday, March 19th 2021, a volcanic fissure suddenly opened up on the Reykjanes Peninsula. Seismic activity had caused serious concern among the population living in the surrounding area. An almost eight hundred-year-long dormant period was now at an end and it was difficult to predict how the unrest would develop. The spectacular volcanic display in Geldingadalir (Fagradalsfjall), close to the most populated area of the country, attracted thousands of visitors who flocked there to marvel at the raw power and beauty of the eruption.
Also check out Brief history of Icelandic volcanoes from same authors and same size. Shipping price same if you add both into basket.
Customer Reviews
26 January 2022
Anonymous

United States
I recommend this product
A good book to have
This is a very good book for me - fantastic photos with great printing and color reproduction. The text is informative and very readable, but not dumbed down like many articles in the press have been.
29 December 2021
Renée C.

United States
I recommend this product
Fascinating
On Fire is my new favorite book. I was so excited when it arrived. The shipping was so fast. It is well written with many memorable photos.
07 October 2021
Anonymous

United Kingdom
I recommend this product
Book on the volcano
On Fire. Iceland's youngest volcano. An amazing book, stunning pictures and loads of information as to the formation of this volcano. A brilliant read.