---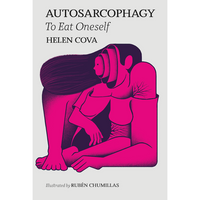 Autosarcophagy is the newest book of venezuelan-icelandic author Helen Cova. Magic realism and dark fantasy mix together in each of the exhilarating short stories that bring the icelandic fjords, the darkness of icelandic winter and the caribbean to the same spot. A book you won't be able to put down.
From interview Reykjavík Grapevine did with Helen Cova about the book:
Venezuelan/Icelandic writer Helen Cova recently published a short story collection 'AUTOSARCOPHAGY, to eat oneself' under the umbrella of the fantastic Ós Pressan. First off, don't worry—it's safe to say that the book is not literal about self-cannibalism. Rather, it explores the darker forces that can eat one's soul and mind.
"I'm trying to talk about these things and trying to just put it out there and say that they exist," Helen says. "There is a lot of violence and there is a lot of anger in the book—and this is also part of life. I think it's important to be able to talk about it. There are many taboos, one of them is a mother or a father, or a family, just harming a child," she explains.
Read full interview on grapevine.is