---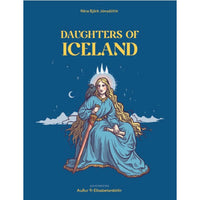 Daughters of Iceland tells the fascinating stories of 23 remarkable women who have shaped Iceland's history from the early settlement to the present day. 
From leaders and trailblazers to strong women who faced great difficulties with tenacity and strength - their legacy and achievements are an important inspiration for today's world. 
Daughters of Iceland pays tribute to the many women who have left their mark on Icelandic history and who continue to break new ground. They are pioneers, explorers, artists, athletes, or fighters for gender equality. Some of the women were born in Iceland, others made Iceland their home. 
They are the Daughters of Iceland. 
Read the stories of
The 9

th

-century grandmother who led a sea voyage from Scotland to settle in Iceland to save herself and her grandchildren 




The woman who survived decades as an outlaw in the Icelandic highlands




The 17-year-old girl who was set on finding a job with a man's salary and became Iceland's very first master craftsman – male or female




 

The theatre director who became the president of Iceland and the world's first woman to be democratically elected as head of state
And many more!