---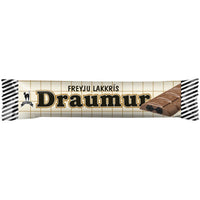 Milk chocolate and liquorice. Icelanders, you know what we're talking about, but foreigners—stay with us. This combo is probably one of the most Icelandic foods of all time, and for good reason. The sweetness of the rich chocolate perfectly balances out the sharp liquorice taste making an ideal lil' bite. Treat yourself!
Ingredients: Sugar, cocoa butter, whole milk powder, wheat flour, cocoa mass, liquorice kernel, stabiliser (sorbitol), glucose syrup, vegetable fat (palmoil, palmoil kernel, shea butter, coconut oil), ammonium chloride, salt, food colour (vegetable carbon), emulsifier (rapeseed lecithin), preservative (sodium benzoate), acid (lactic acid), flavouring. Sustainable (RSPO). The chocolate contains a minimum of 35% dry cocoa solids.
Allergens: The product contains trace amounts of milk, wheat flour and liquorice. The product may contain trace amounts of nuts. Contains liquorice – Individuals with high blood pressure should consume it in moderation

Customer Reviews
I recommend this product
Nom nom
Good balance between chocolate & liquorice - my favourite bar next to all the Omnom bars.
18 May 2022
Natalie H.

United States
I recommend this product
I'm a Convert
I never used to like black licorice, but All Things Iceland had a funny video about it, so when I came to Iceland, I had to try it. Salted licorice in chocolate? From the first bite, I was absolutely in love. I think I ate at least one a day , and I bought lots to bring home. Folks, if you don't like black licorice, I would encourage you to give it a try. When it's done right, like Icelandic companies do, it's amazingly delicious. I'm was delighted to find I can order some from time to time. Also, be sure to check out the Draumer Smá. They're small bars and the salted licorice is filled with marzipan. ❤️
04 May 2022
Anonymous

United States
I recommend this product
A sickly sweet and sour overindulgence
Gobble gobble devoured in total haste