---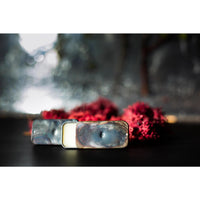 A unique scent that is handmade by Fischer here in Iceland.
 Brand new sneakers, crushing fresh flower stalks against hot asphalt. Mouth full of lemon candy and fingers sticky with motor oil.
Stole rhubarb from a neighbours garden, peeled, slathered in honey and chewed on. Orange cake crumble in the pocket og freshly washed clothes. Arctic wind blowing through hair in a damp pine forest.
Ingredients: This solid perfume is a vegan, alcohol free and paraben free formula made with organic meadowfoam seed oil, jojoba oil and candelilla wax.
Also check out Fischer n.8 shampoo!
Team behind Fischer: Lilja, Jónsi (from Sigur Rós) and Inga Birgis, along with boyfriends Sindri, Kjartan and Alex. They made the music, perfume, photographs, video work, art, graphic design and so much more!

Material we have done about Fischer store. Best goddamn store 2019-2020. 

Product line of the year 2019.