---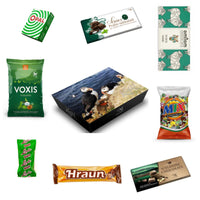 Sale
A wise person once said that if you can get to know a nation's candy you can get to know a nation's heart. For this box we did a lot of research and scientifically calculated how much Icelandic candy an average person needs to survive for one month. The answer lies within this box. Filled to the brim with all the best candy Iceland has come up with.

Icelandic festive luxury chocolates! You will find these in almost every home in Iceland during the holiday season...This is the smallest box we have for those who just want the taste before bringing in the big boxes! Contains 5 pieces of luxury chocolates.


This one stands on the shoulders of mighty Djúpur but has delicious pepper dust coating and liquorice centre. 

If you have crossed passed with these, chances are that you are addicted to them AND if you are: They are available in bulk separately...Just send us a line at shop@grapevine.is and we will send them in cart loads!
Nói Siríus - Kropp 200g
Nóa kropp is an Icelandic classic. Could possibly be likened to Maltesers in some sense but smaller and lighter (and better in our humble opinion)...By no means a controversial candy and goes with anything as well. Put it on a cake, ice cream or have some with coffee. Doesn´t matter. Everyone likes it.
Opal (Green and Red)
A gentleman commenting on our Icelandic classics box was obviously in considerable dismay whilst typing: "Where is the Opal?" And boy was he spot on! How can anyone in their right mind make an Icelandic Classics Box without OPAL?! We hang our head in shame actually and future Icelandic Classics boxes will come with a free pack of Opal thanks to him!
But what are they? Opal are small, round, salmiak (or menthol in red) liquorice pastilles that are one of the things you would find in the pocket or purse of the average Icelander and has been for decades. Everyone knows the taste and it doesn't change although they add varieties regularly (and so will we).
Omnom is an award-winning small-batch, handcrafted, artisanal chocolate maker based in Reykjavík, Iceland.
Each bar contains single-origin cocoa beans from Madagascar, Tanzania and Nicaragua; organic sugar cane; natural Icelandic milk powder — is individually sourced with care, placing ethics, sustainability and transparency at the heart of the process.


'Hraun' means 'Lava,' and this bar is shaped as though a chocolate-spouting volcano erupted over a wafer-field of puffed rice and maize starch (That's probably how it's advertised, anyway). The texture is rough, and bits and pieces of puffed rice pop out like a bits of a lava field. 
Conga Xtra - The ultimate retro chocolate bar!
Although in theory it's really just a thick ice cream wafer covered in chocolate, it has a big cult following and has been around since we had 3 digit phone numbers apparently!
So there must be some magic hidden within the Conga...Order now and taste for yourself!
The memories. The Lindu Buff is a classic Icelandic sugar bomb of a chocolate bar. "Buff" means something along the lines of "Meatloaf" and is probably a reference to the shape of it.
Inside it's thin layer of chocolate it is jam packed with a sticky, white, sugary, almost marshmallowy substance that tastes like a piece of heaven. There is no other way to describe what this substance is like as we have not encountered it in foreign candy...But it is airy, extremely sticky and very, very sweet! 
Try it! You will most likely be back for more...
Nói Siríus is the largest manufacturer of Icelandic chocolate and these bars are the traditional, classic ones. 
When asked what our subscribers (
subscribe here
) wanted us to add to the store many mentioned Pipp! But where was it? It was nowhere to be found and our investigation led us to the Nói Siríus chocolate factory where it used to be made. Now it is called Pralín with peppermint apparently.
An assortment of all kinds of Icelandic candy...Fruity, caramel, chocolate, hard, soft.
It's Mix...

Candy with benefits! Great for a sore throat made with soothing angelica herbs from Iceland!
Customer Reviews
100
reviewers would recommend this product
Write a Review
14 September 2022
Jeff P.
I recommend this product
Totally Yummy
A great mix of goodies. Thanks.
05 July 2022
Anonymous

Canada
I recommend this product
Grapevine's NEW Candy Box
I love chocolate and this box contains a good amount of chocolate. Since I prefer dark chocolate, I was a bit disappointed that most of the chocolate was milk chocolate and a very pale version of milk chocolate that I am familiar with. The chocolate and black liquorice is a fabulous combination especially with the dark chocolate. The mixed candy bag is also very good. There are a few items that we have not yet tried. Overall a very good candy box.
02 May 2022
Kathleen C.

United States
I recommend this product
Great selection of Icelandic candy!
I decided to get these candies for my husband's Easter basket, and we have really enjoyed trying each one! Everything has been delicious so far, especially the Hraun bars!