---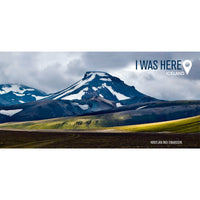 I Was Here
Photography by Kristján Ingi Einarsson
From the publisher:
Iceland is a land of visual adventure. These
images captured by Icelandic photographer
Kristján Ingi Einarsson reflect so many facets
of the nature and contrasts of the country. From
its grassy green farmlands and mixed woods and
brush lands Í to the vast and empty highland
deserts. Iceland is so many things at once.
A visual keepsake that inspires and keeps the
memories alive.

KRISTJÁN INGI EINARSSON, born in
Reykjavík in 1952, began taking photographs as a
youngster. He has held numerous photographic
exhibitions, with his most recent work focused
on landscapes interpreting his vision of
Iceland.

This new, handy-sized volume, "I was
here", presents almost a hundred selected
locations around Iceland in wide-angle format,
as seen through the eyes of the viewer.

152 pages.