---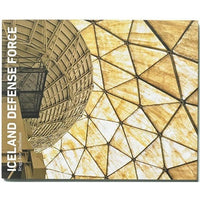 Iceland Defense Force - By Bragi Þór Jósefsson
In 2006 the US Army closed down it's only military base in Iceland after 55 years. The base was populated with 6000 people at the height of the cold war which made it one of Iceland's largest towns! This self sustainable community with its own hospital, shops, schools etc. was rather suddenly and completely evacuated by the army, leaving behind a ghost town. 

Bragi Þór Jósefsson photographed this ghost town just after the Americans left and before Icelanders had taken the buildings into other use. The photographs in this book are poetic, hauntingly beautiful and so very silent, almost post apocalyptic in a way.
A must have for anyone ever visited the town at some point or was based there. You will most likely recognize some of, if not all of the scenes and flipping through it will most likely bring back some old memories!
Soft cover, 80 pages
Customer Reviews
01 February 2022
David D.
I recommend this product
Gift for someone who has everything
My Big Brother didn't know of the Iceland WW2 and US Forces ... Now he does.