---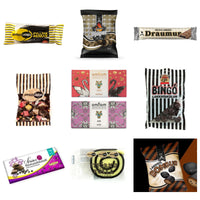 The Liquorice Lover Box
Either you love it or you despise it: Liquorice. For Icelanders it seems to be more like: Either you love it or you are obsessed with it!
In this box we assembled all the liquorice-y products we have at the store! If you are into it you will love this box that incorporates liquorice in all kinds of different ways.
Enter the deep! Djúpur is not as old a product as one would think by the  room it seems to inhabit in every Icelanders heart. The combination af hard, sugary shell-like exterior with soft chocolate and liquorice interior has made "Djúpur" one of the most celebrated candy brands in Iceland. Like a pop song that haunts you for decades on end, the word "Djupur" will very possibly be on your mind and lips more often than you will admit.
Icelanders have an odd obsession and dare I say addiction towards black liquorice and Apollo is the gateway drug sort to speak. Combined with some sort of marcepany sweet substance the liquorice takes on a whole new persona and before you realize it, you have devoured all of that persona.
Omnom (Liquorice & Sea Salt + Liquorice & Raspberry)
Omnom is an award-winning small-batch, handcrafted, artisanal chocolate maker based in Reykjavík, Iceland.
Each bar contains single-origin cocoa beans from Madagascar, Tanzania and Nicaragua; organic sugar cane; natural Icelandic milk powder — is individually sourced with care, placing ethics, sustainability and transparency at the heart of the process. These two are our favourites as they both contain liquorice!
Milk chocolate and liquorice. Icelanders, you know what we're talking about, but foreigners—stay with us. This combo is probably one of the most Icelandic foods of all time, and for good reason. The sweetness of the rich chocolate perfectly balances out the sharp liquorice taste making an ideal lil' bite. Treat yourself!
For those who love the classic liquorice/marzipan mix but a prefer the bitter over the sweet. The Liquorice laces have less marzipan than the Stjörnu Rúla, but the same amount of bang for your buck.

Liquorice and Marcipan rolls x 6
What is there to say about liquorice? Icelanders love the stuff! It's EVERYWHERE! And it's the best liquorice you're likely to have - possibly because heavy marzipan to liquorice ration - so stock up! With marzipan added to the mix, the sweet and bitter taste is sure to get your taste buds tinglin'.
This delicious bar gives a hint of that classic liquorice taste without being too overpowering. Salty liquorice and chocolate is a taste that Icelanders just can't get enough of and this chocolate bar will make you understand why...
Liquorice and chocolate fans, rejoice. Your favourite combination has come to life in the size of the pebbles of Iceland's famous black beaches, although thankfully, not an actual rock. Take a bite from one and you'll swim in the delectable, creaminess of chocolate followed by the strong notes of black liquorice. One of the most common candies in Iceland and an undeniably addictive pairing.
Every Icelander knows the taste of these chewy liquorice balls. It is the taste of youth and unlike anything you will have tasted before we believe. Despite the cute name this is some bad ass candy. If you had a loose tooth you needed out as a child in Iceland you would most likely be prescribed a Bingó kúla to hasten the process. It is so sticky that sinking your tooth into it and pulling would surely do the job...
Customer Reviews
21 December 2021
DAVID T.
I recommend this product
Liquorice Box
Since it was bought to be a Christmas present all I've done with it is wrap it. That went well.
28 October 2020
Russell P.

United States
Great choices
Arrived I damaged, candy was all inside sell by dates, what we have tried was tasty, nice to get a copy of the Grapevine as packing. We will order again some day.