---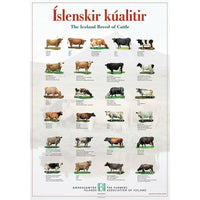 Icelandic Cow Poster
Are they like any other cow? Well, no...They are slightly different. In Iceland the import of livestock has been forbidden for century the most part and the modern, Icelandic cow has mostly been bred from the rather diverse gene pool of the cows that arrived with the settlers some 1100 years ago.
A must have for all breeders and those interested in this unique breed of cows! Has all known color variations of Icelandic cows in English, Icelandic, German and Danish!
There are 2 sizes available 60,9 cm x 86,8 cm and a smaller one in A3 standard format.