---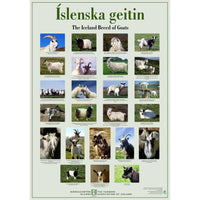 Icelandic Goat Poster!
Look at these wonderful creatures! The Icelandic unique Goat breed! These kind creatures have a unique temperament, are a bit eccentric and a bit inbred just like the rest of us Icelanders.
They have been around since the Vikings brought them over but twice they nearly went extinct! They have little economic value and are currently mainly held as pets!
Now the government subsidizes raising them paying anyone around 5000 kronas a year just for owning one. This is only to save them from extinction and currently 60 people are registered goat owners! 
Join them today and get a poster with these very rare goats!