---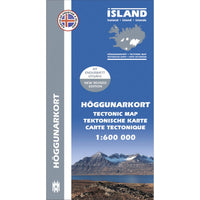 The Tectonic Map of Iceland
This large fold out tectonic map of Iceland gives a new view of the county´s geology. The rocks are classified by age, not by type or composition. Volcanic systems including central volcanoes and fissure and dyke swarms, both active and extinct, are shown. As are the island's principal fracture zones and the dip of rock layers. The map thus gives a useful insight into the geological structure of the country.
The map is 100 cm x 70 cm folded out.
All text is in Icelandic, English, German and French.
Customer Reviews
I recommend this product
Tectonic map of Iceland
It's a present for a friend who has been to Iceland several times. I hope he likes it! I've been once and was amazed at the beauty of the place. I want to go again.
25 August 2021
Jan N.

United States
I recommend this product
Is it possible to marry a map?
Because from the moment I opened the package, I was in love…
23 March 2021
Lee-Anne F.

United Kingdom
I recommend this product
Terrific tectonic topography!
Geldingadalsgos laughs in the face of my map purchase by making it immediately obsolete! Just kidding, the volcanic systems are shown on this map all over Iceland so it's really interesting, and comes in a clear protective sleeve which is a nice touch. I bought it as a gift and I think it will be well received.
29 March 2021
rvkgrapevine
Hah, yeah these pesky volcanos keep the topography interesting. Hopefully your friend will appreciate it.