---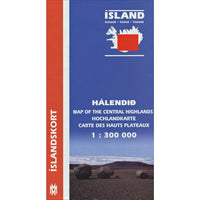 Map of the Icelandic Highlands!
Move over Google Maps! This foldout map of the Icelandic highlands, on the scale of 1:300 000, is an indispensable travel companion for your trip into the untouched wilderness. The map includes all major routes, GPS coordinates of all crossroads in the highlands, where to ford rivers and locations of cabins. On the reverse side there are descriptions and photographs of the area's main attractions.

Published: 2019
Size: 72 x 104 cm
All text is in Icelandic, English, German and French. 
Customer Reviews
I recommend this product
Very good map
Regretfully I as of now had no opportunity to actually use the map in Iceland. However, in times of war in europe one should be prepared for satellite based navigation systems to be somewhat unreliable or even suddenly not available at all. Then a good map is essential.