---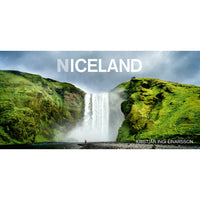 Niceland
A cute little book with beautiful photos of Iceland. You will recognise a few of the places pictured most likely and it is really fun to look through.
Note that this book is approximately the size of an Iphone and has just over 120 pages so it goes well in a pocket.
Book size: 7x14cm
128 pages.
KRISTJÁN INGI EINARSSON photographer, born in Reykjavík in 1952, began taking photographs as a youngster. He has held numerous photographic exhibitions, with his most recent work focused on landscapes interpreting his vision of Iceland.