---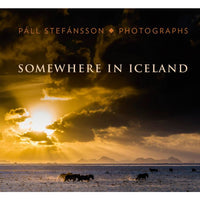 Páll Stefánsson has been photographing the Icelandic landscape for decades. He knows the country inside-out and and often waits hours at a time for the right light to provide him with a perfect image. Here he displays Iceland in all its grandeur.
Páll Stefánsson is a Sony Global Imaging Ambassador, and has worked for UNESCO, the Red Cross, National Geographic, and Leica, to name a few. Páll has done more than 300 magazine covers and stories for the magazine Iceland Review. This is his 37th book.
"You'll see that there are fewer pink sunsets and yellow dawns in this book than in many other tomes on Iceland's landscapes. Here there are more subtle displays of light's power over Iceland. You'll see how the light lingers, sneaks, shows itself and then disappears again, toying with the clouds. Each moment telling a different story than the one before."
– Eliza Reid, First Lady of Iceland
Customer Reviews
25 May 2021
Anonymous

United States
I recommend this product
Great
WOW - stunning photographs from a Master!
Thrilled to hear that you enjoyed the photographs!