---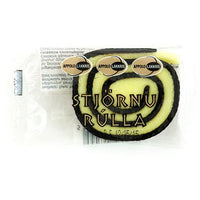 What is there to say about liquorice? Icelanders love the stuff! It's EVERYWHERE! And it's the best liquorice you're likely to have - possibly because heavy marzipan to liquorice ration - so stock up! With marzipan added to the mix, the sweet and bitter taste is sure to get your tastebuds tinglin'.
Ingredients: Sugar, flour, liquorice root, glucose syrup, desiccated coconut, salmiac salt, salt, lactic acid, sorbitol, hydrogenated vegetable fat (palmkernel), aniseed oil, invert sugar, gelatine, glycerol (E422), colours (E104, E122 may have an adverse effect on activity and attention in children, E150, E153), flavours,.
Contains liquorice - people suffering from hypertension should avoid excessive consumption.
Customer Reviews
08 January 2022
Anonymous

United States
Stjornurulla (Star Roll)
Very tasty licorice candy in a fun swirl! Marzipan was good and not overly sweet. Nice compliment to the licorice. I would order this again!
17 December 2021
Anonymous

United States
Stornurulla Star Roll
This candy is a lot of fun! I tried the yellow and the pink. I enjoyed the licorice more than the marzipan, but the flavors do compliment each other well. I would recommend that you try them! Bite into it, or unroll it little by little and eat the layers. Makes it a fun candy!
06 August 2021
Gwyneth G.

United States
deliciously unexpected
REALLY delicious. Unexpected flavor. Will order again.