---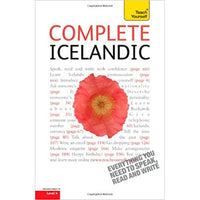 No Icelandic on Duolingo? We got you covered! Here is a package suitable for beginners up to level 4 in learning the notoriously difficult Icelandic language. Well, with this, maybe it isn't....Here is what the publisher says:
"The go-to program for developing a sound grasp of Icelandic. Complete Icelandic with an audio link that will provide a clear and comprehensive approach to Icelandic, designed for anyone who wants reach an intermediate level in all four skills; reading, writing, listening and speaking. This unique program allows you to master Icelandic at your own pace through authentic conversations, detailed language and grammar explanations, and extensive practice and review. You will learn what you want to say and when to say it's everything from giving opinions to planning events. With our interactive Discovery Method, you will absorb language rules faster, remember what you learn more easily, and put your Icelandic into use with confidence. Includes tips to help with pronunciation and grammar Comprehensive program to reading, writing, listening and speaking, providing guidance from beginner through intermediate level. Audio link contains numerous audio dialogues that provide practical communication models"
Check out Árstíðir book for learning Icelandic with simple text.
Customer Reviews
100
reviewers would recommend this product
Write a Review
I recommend this product
Icelandic... It's Like a Whole Other Language
I am still at the beginning of the book. The way it is organized appeals to my language acquisition instinct, and the online interface is very helpful. The book sets out to teach a functional-conversational level of fluency, which makes it a great introduction to this enchanting language.
19 January 2021
Kathryn L.

United States
Love Rvik Grapevine
Have loved this media outlet since 2005 BUT you finally had a product I want and it is sold out!
29 January 2021
rvkgrapevine
Hi Kathryn, yeah it sold out pretty quickly. But fear not, we found another one: https://shop.grapevine.is/collections/grapevine-bookstore/products/learning-icelandic?variant=38167337369775 and we're actively looking for more.