---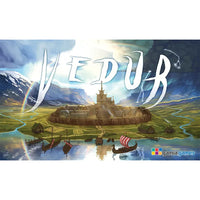 VEDUR
It is no secret. Icelanders are and have always been, obsessed with the weather. In this brand new board game the aim is being able to correctly predict the upcoming weather and if you succeed you can become the Jarl's next wise (wo)man.
You play a viking village prophet and you try to outdo your opponents in manipulating the weather with magic and correctly prophesying the future.
Super interesting gameplay and artwork and many ways to win as you use a wide array of cards to manipulate the weather and fulfill your prophecy. Each player gets their unique viking village to play on and the name of the game is outwitting their fellow village shamans. 
Vedur is essentially an action selection deck builder and a superb addition to that whole genre. Another thing we love about it is that you can both play the basic rule set for beginners and the youngest players and advanced version for the hardened veteran boardgamer. So it's easy to learn but still has great replay value as become better at it.
Game Compontents:
Box with magnetic opening (215 x 135 x 50 mm)
2 central boards, with holes for cubes and dice
4 double sided players boards, basic side and advanced side
4 double sided card with player character side and player aid side
4 x 12 starting cards, in 4 colour sets
4 x 8 cube sets, in 4 colours
4 x sets of scoring token, basic player token and advance player token, in 4 colours
46 weather cards
44 Elixir cards
24 weather tiles
6 x custom d6 dice
1st player card
1 x English rulebook
1 x German rulebook
You will find a detailed review of the game in this video: