---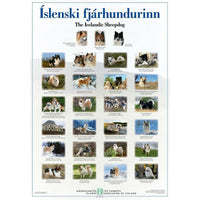 Icelandic Sheepdog Poster
Everyone seems to know the Icelandic Horse (no, it's not a pony) and they are highly sought after by breeders all around the world. Less known is the Icelandic Sheepdog that has unique characteristics and are one of the most rare dog breeds in the world! 
This poster shows all known colorations of the Icelandic Shepherd as it should probably more fittingly be called. But sheepdog is cuter and they sure are just that.
Sizes are 60,9 x 86,8 cm or A3. and fitting for any lover or breeder of the Icelandic Dog!
Customer Reviews
02 August 2021
John B.

Canada
I recommend this product
sheepdog poster
Great poster but terrible packing for shipment. Arrived with flimsy tube crushed and the poster damaged. Trying to restore kinks and creases by framing but doubt it will ever look perfect.
20 September 2021
rvkgrapevine
Hi John, Sorry about the late reply. We are having a hard time keeping up with answering all our reviews, but we are very and truly sorry to hear that your poster arrived damaged! We have been led to believe that the packaging we purchase for sending posters are safe for shipping. We have not had other complaints similar to yours, but we will certainly look into if we can find stronger packaging solutions to prevent this from happening again. Hope it doesn't look too damaged after framing. If it does, please send us a line at shop@grapevine.is and we will try to find a way to compensate you.