---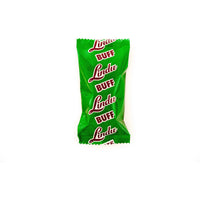 Lindu Buff
The memories. The Lindu Buff is a classic Icelandic sugar bomb of a chocolate bar. "Buff" means something along the lines of "Meatloaf" and is probably a reference to the shape of it.
Inside it's thin layer of chocolate it is jam packed with a sticky, white, sugary, almost marshmallowy substance that tastes like a piece of heaven. There is no other way to describe what this substance is like as we have not encountered it in foreign candy...But it is airy, extremely sticky and very, very sweet! 
Try it! You will most likely be back for more...
Ingredients:
Sugar, glucose syrup, cocoa butter, milk powder, cocoa liquor,
binding agent agar (E406), emulsifier: soya lecithin (E322),
milk proteins, vanillin.
Could contain traces of hazelnuts, almonds and coconuts.
Customer Reviews
18 April 2022
Jonathon A.
I recommend this product
It keeps my neck warm…
…no, hang on, it's delicious. I had my first one as part of a quarantine survival package last year, but rather than returning me to those 4 walls, I am happy to say that it brings back memories of good times in Iceland.
13 September 2021
Cynthia F.

United States
I recommend this product
Melted Buff Still OK
The taste was light and delicious. I'd like to try one that hadn't melted and been re-congealed in the refrigerator. I guess I have to blame myself for ordering chocolate during a hot Virginia summer!
20 April 2021
Jon A.

Iceland
I recommend this product
Another reason to visit Iceland
Just tried my first one and it was fantastic - kind of like nougat meets marshmallow. Sticky. Sweet. Delicious. And thanks to The Grapevine for the express local delivery.