---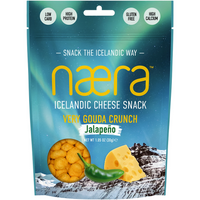 Næra - Icelandic Cheese Snacks w/Jalapeno!
We have not found a decent way to send Icelandic Cheese abroad as it heavily depends on refrigeration. But we found this! A local startup that has turned Cheese into delicious snacks! They are healthy, fun, convenient and sustainable. 
There is no baking, frying, air drying or freeze-drying so less energy is used than in many other snack production processes. And the little energy used is of course geothermal.

This brand new taste has a spicy edge on it and makes it even more addictive!
Product info:
100% ICELANDIC CHEESE
NOT BAKED OR FRIED
MINIMALLY PROCESSED
KETO
HIGH PROTEIN
GLUTEN FREE
HIGH CALCIUM
NUT FREE
LACTOSE FREE
NON GMO
HORMONE FREE
ANTIBIOTIC FREE
WHEAT FREE


INGREDIENTS: Reduced fat Icelandic Gouda cheese (milk, skim milk, salt, rennet)..
30 gr each pack.
Nutrition Information per 100 g.
Energy 2,065 kJ / 495 kcal
Fat 31 g
Saturates 18 g
Carbohydrate 0 g
Sugars 0 g
Protein 54 g
Salt 2.7 g
Folic Acid 70.2 mcg 35% RI*
Calcium 1,630 mg 203% RI*
Magnesium 74.0 mg 20% RI*
Selenium 40 mcg 72% RI*
*Reference intake of an average adult
(8,400 kJ / 2,000 kcal)